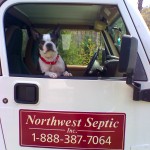 An experienced family owned business!
Northwest Septic, Inc. takes great pride in being dependable, knowledgeable, and providing quality service. Our motto is: "Treat each and every customer's property as if it was our own."
Northwest Septic, Inc. is family owned and operated by Cliff Coveney and Cindi Mann Coveney. Northwest Septic has been in business for over 20 years and managed by the Coveney's since April 2010. Both Cliff and Cindi have resided in Connecticut for more than 40 years and had over 15 years experience managing a septic company before going into business for themselves.